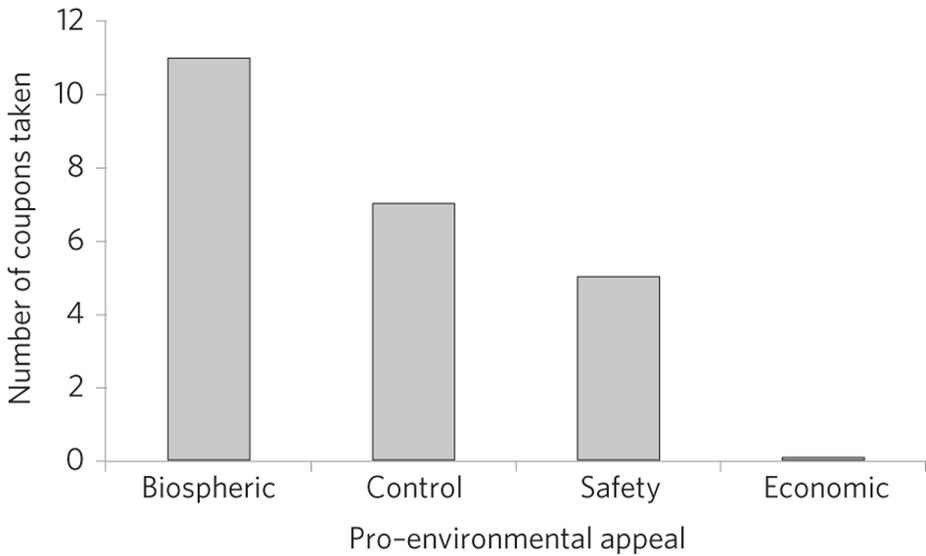 (Bolderdijk, Steg, Geller, Lehman, & Postmes, 2013)
Bolderdijk et al, 2013 figure 1
Study in US on who picks up a coupon for a free tire-pressure check from a billboard saying it will save money vs it will save the environment vs it will make you safe vs just 'have one' ( = control)
(Severson & Coleman, 2015)
also found that money doesn't help, whereas ethical appeals do.
This is a study in which. Participants were just visitors to a local garage in North America and they were shown a display which offered a leaflet to get a free tire pressure check on your car and the poster advertising the Leaflet either said get a free tire pressure check on your car to save the environment. So kind of environmental motivation. It could say nothing. It could say get a free tire check to improve your safety or it could say get a free tire check to save you money. Right now this is very counterintuitive, so for me I would be like, Yeah, save money. That's it. I should go and get my tires checked, but actually the number of leaflets taken from the save money thing was almost non and the most leaflets were taken from the post. As you can see there was advertising the environmental benefits of getting your tires checked. Good news you try to motivate humans on climate issues by money and they don't respond. You try to motivate them with the climate issue itself, the ethical issues, save the planet and they do tend to respond very strongly. Many studies like this, also indicating that when you try to tell people look, you know something bad will happen to you or you can gain some money. They're very unresponsive in those cases. What tends to have an effect on behavior, as in this study, is the appeal to the ethical issues around climate change. That's what appeals to motivate people.
So it's moral convictions and the emotions they evoke that shape political attitudes. These are not the only factors, but by that they are by far the most. Important factors of those that we can manipulate.